11 Feb 2019
New Jackpot Race from Habanero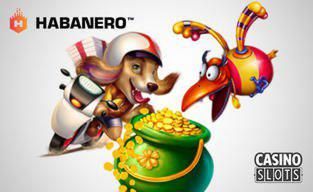 JOIN THE JACKPOT RACE
A Jackpot Race can be configured by each casino. They set the length of the race, choose how many qualifying games are included and the proportion of the prize shared out among players at the end of the race.
For example, a race can begin at 4pm on a set day, run for 6 hours and 10 slots will be featured. The size of the jackpot will already be growing, from an accumlution period before the race begins.
The likelyhood of the jackpot being awarded increases towards the end of the race and when it's paid, the win is split among a pool of players. The winner could get 50% of the jackpot, with second-placed player collecting 25% and the other 25% shared among the next five-placed players. This is just an example of how a race can be customised by a casino, as Jackpot Race events are very flexible.
Anyone who is actively playing could qualify for a prize in the innovative Jackpot Race feature.