Betsoft Gaming Shortlisted by G2E for Best B2B Digital Product Solution Award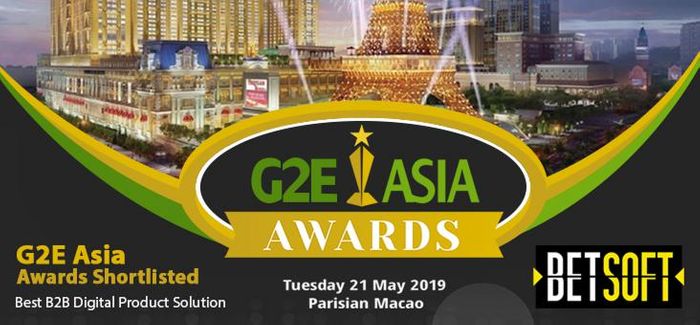 For the second year running, Betsoft Gaming's comprehensive suite of content and support systems has been nominated in the Best B2B Digital Product Solution category at the G2E Asia Awards. The company emerged top of this category in 2018.
A long-running institution in the Asian iGaming and casino industries, the G2E Asia Awards span twelve key categories. A panel of more than 50 independent industry experts are tasked with shortlisting and selecting winners in each category. Their decisions are made on the basis of global commercial performance, content quality, technical excellence, support for new and emerging regulated markets, and other important factors.
This year's awards ceremony will take place on 21st May 2019, at a gala dinner hosted at luxury hotel The Parisian, in Macao. The judging criteria centres on discovering "the most outstanding digital platform for the iGaming sector". Over the last 12 months, Betsoft has further extended its creativity and scope of product that earned it a winning level of "trust and respect […] within the industry," according to Andrew W. Scott, Chairman of the 2018 G2E judging panel.
As well as its powerful, proven Casino Manager platform, Betsoft's nomination is also supported by the continued growth and innovation seen across its signature Slots3TM game series. In 2018, Betsoft released more than ten marquee titles – from fresh takes on traditional slots, to character-driven games with captivating themes – as well challenging the definition of RNG gaming with the all-action, multiplayer shooting experience Max Quest: Wrath of Ra.
"Betsoft was honoured to be recognised by the independent judges at G2E Asia 2018 for the considerable investments we had been making in our games and in the systems that support them – and this year those investments have delivered even bigger returns," said Annamaria Anastasi, Betsoft's Marketing Director. "From our back office platform and proprietary technologies, to our vast and varied portfolio of games, we are confident that 2019 represents our best-ever value proposition to operators around the world."