13 May 2019
Betsoft Gaming is Shortlisted in Two Cornerstone Categories at 2019 EGR B2B Awards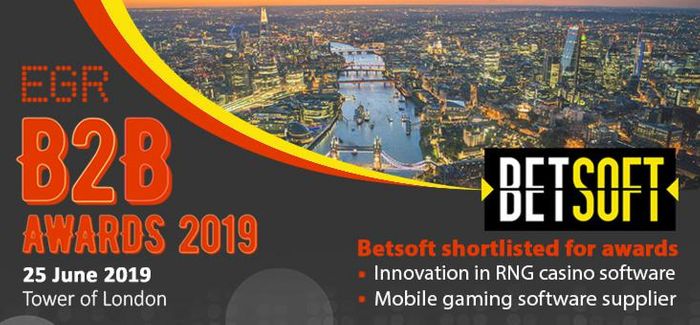 In recognition of its status as a premier supplier of online casino content, Betsoft Gaming has been shortlisted in two cornerstone categories at the 2019 EGR B2B Awards: Innovation in RNG Casino Software, and Mobile Gaming Software Supplier.
The EGR B2B Awards are among the iGaming industry's top accolades, celebrating the best that online gaming has to offer across 40 different categories. These cover everything from casino management platforms to data centres, with a core focus on slot games, mobile games, and other content. A fresh panel of independent judges assembles the shortlists each year, and then selects an overall winner who is named during a glamorous, black tie reception.
This year, the final awards will be handed out on the evening of 25th June, at the Tower of London. For the first time, an outside party will officiate and audit the selection processes in 2019, ensuring that the winners can readily demonstrate the degree of creativity and commercial performance required to take home top honours.
Betsoft's ascension to the Innovation in RNG Casino Software shortlist was driven by its compelling portfolio of character-driven games and new slants on traditional slots –which sit alongside all-new innovations like the multiplayer, role-playing experience Max Quest: Wrath of Ra. Set in a sunken tomb beneath the sands of Egypt, Max Quest: Wrath of Ra replaces reels and symbols with maze-like levels, special weapons, and supernatural enemies. Blending the best of social and home console gaming, Max Quest matchmakes players in parties of up to six and encourages a unique mix of cooperation and competition.
A similar spirit of invention also underpins Betsoft's place on the podium in the Mobile Gaming Software Supplier category. In the judging period, Betsoft released more than ten games, all designed with a mobile-first philosophy, and all built on the provider's second-generation ShiftTMdevelopment platform. An HTML5-native, single-code environment, ShiftTM 2.0 now includes smart asset quality switching and streaming improvements that guarantee the complete audio-visual experience on almost any device.
"In a content-hungry market, quality, innovation, and accessibility are the keys to building a successful portfolio that will both appeal to seasoned slot players and capture new demographics," explained Annamaria Anastasi, Marketing Director at Betsoft. "This year, we have created our best stable of new games to date – from deep, immersive experiences pitched at demanding players, to totally unique crossover titles like Max Quest. At the same time, we've invested heavily in bringing that entire roster to life on mobile with absolutely no compromises. Together, those two pillars of our content strategy have helped our customers acquire new gamers and maximise the lifetime value of current players. I'm thrilled that this approach has been successful enough to be recognised with not one, but two nominations at the EGR B2B Awards."